Shortlisted for the Best Technology Partnership Award
We are thrilled to have been shortlisted for the 'Best Technology Partnership' award by Event Technology Awards 2019. The Event Technology Awards recognise the achievements of companies delivering digital and technological solutions to the events industry. The ceremony is widely regarded as the only networking event that brings together agencies, brands, buyers, and suppliers from all event sectors.
We help our clients make their events more successful by enabling better data and better leads. Supporting them with an intuitive App to qualify leads and integrating with visitor mapping software from our partners, our platform provides high-quality attendee and visitor tracking insights and lead data in one place. Combining these technologies offers a unique and highly valuable package for event organisers and exhibitors alike.
The winners will be announced on Wednesday 6th November 2019, following the first day of Event Tech Live, which is held at the Old Truman Brewery, London.
SaleStratus at Event Tech Live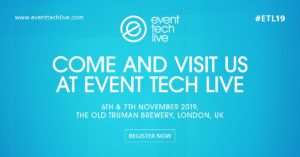 SaleStratus is also delighted to be exhibiting at Event Tech Live 2019 (ETL19), which takes place in London on 6th & 7th November.
The team will be located on stand 1104 ready to talk you through how we can make your events more successful by enabling better data and better leads- through an intuitive App to qualify leads and visitor tracking to monitor behaviour.
Our approach is focused on helping Event Organisers and Exhibitors demonstrate levels of success for their events programmes, through personalised account management, training, and best practice sharing. Come and have a chat at ETL19.
Haven't registered yet? You can do so here for free.
More Information
If you're looking for information on connecting with us at Event Tech Live 2019, support for your next event or interested in hearing more about SaleStratus, please contact Gareth Wood on 07852 235300.