End-to-End Tradeshow Lead Capture: A Holistic Approach & A New Website
According to the Center for Exhibition Industry Research, 92% of CEOs concur that lead generation is the primary reason they approve the investment in a tradeshow presence. And, of those companies investing in tradeshows, on average, 42% of the entire marketing budget goes to supporting the program. It's a $92 billion industry in the US alone, and yet, with only some exceptions, most companies admit to doing a very poor job of end-to-end tradeshow lead capture, from attracting people to the booth, to collecting and qualifying leads, and then following up appropriately.
Tradeshow Lead Capture Process and Technology
Admittedly, the lack of tradeshow lead capture technology 15 years ago made things cumbersome, expensive and slow, but the technology revolution of the last decade has completely reversed that inevitability. Smartphone and app proliferation means that everyone can scan QR codes. New sensing technology can indicate how many people visited the booth. CRM and marketing automation platforms allow for rapid and seamless follow through, and social media platforms offer new ways of interacting with the audience.
Pre-show engagement has always been a key factor in generating booth traffic, and there are more tools these days to facilitate the process. In its annual study, the CEIR found that companies engaging with the audience prior to the event saw their traffic increasing by 50%. Salespeople must strive to set up meetings, and marketing teams must create reasons for customers to stop by. 76% of attendees use pre-show communications with exhibitors to plan their time at a show. All these tactics make a significant difference.
The only aspect of the end-to-end lead capture process which has not changed is the necessity for human interaction at the booth with a focused intent on engagement. From personal experience, I can attest to having increased the lead count by 50% just by creating a culture of engagement with the sales teams at the booth. It's not rocket science, just simple math, ensuring that during the exhibition hours, not one person enters and leaves the booth without being addressed by someone from the company to find out why they are there, and what is their relationship with the company.
Holistic Approach: All Leads are Valuable
At Salestratus we spend a lot of time working with clients to change the attitude towards leads. Let's repeat this – ALL LEADS ARE VALUABLE. Whether the person is a direct prospect with purchase intent, an influencer on a purchasing committee, a potential future buyer, a student who is active on social media, or even and very importantly a disgruntled customer, all these have their importance. Information tends to travel fast these days. According to a trusted tradeshow veteran, the best question to lead with at a show is – How are we treating you? This opens the door indirectly to discovering why the person is there and her or his relationship with the company.
Marketing teams want and need all leads, usually classified as Hot, Warm, or Cold to push them into different channels of follow up in the CRM or Marketing automation.
A New End-to-End Tradeshow Resource: the New Salestratus Website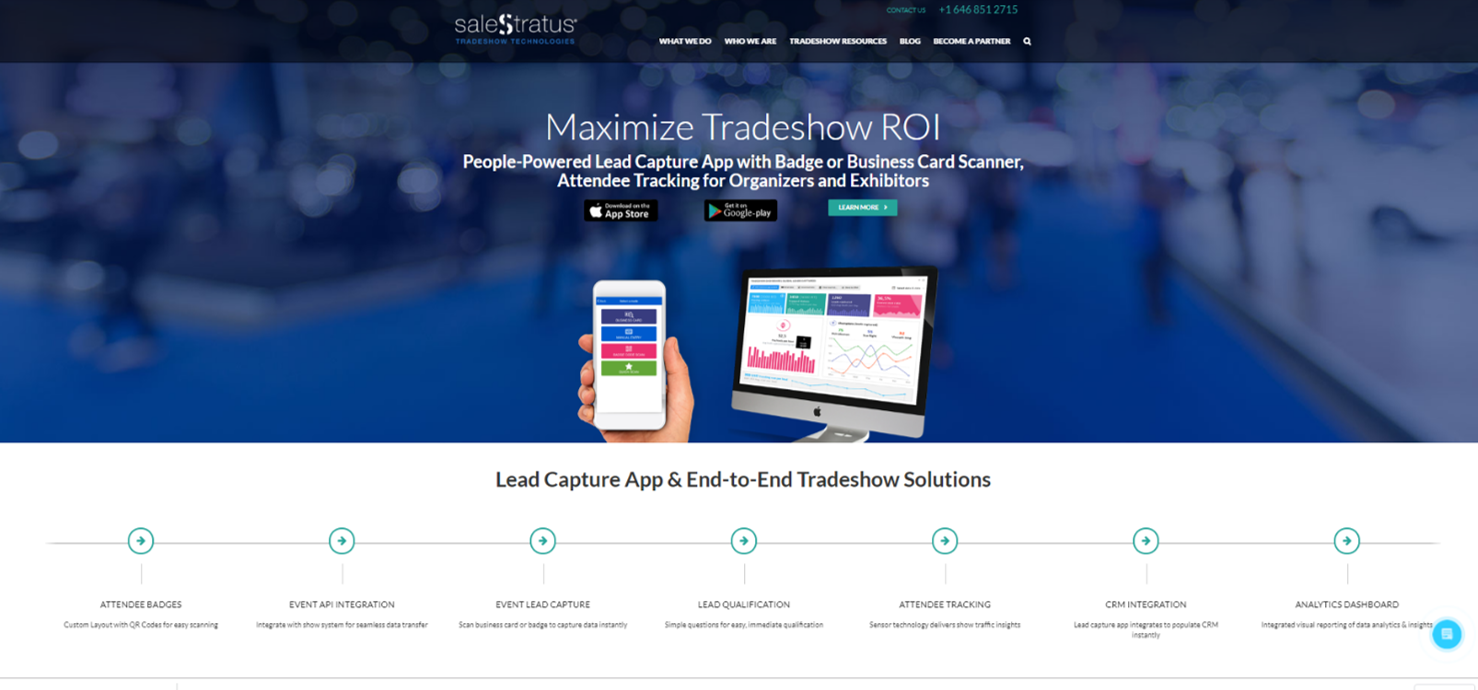 We set out more than three years ago to help companies solve the problem of lack-luster tradeshow results and tracking visibility. Our focus then was on enabling technology, and we built a highly effective event app. But enabling technology is just a small piece of the holistic tradeshow lead capture process. We realized that people-enabled technology is even more powerful. Early 2019, we updated our scope and launched a new website that would reflect the end-to-end tradeshow process and serve as a resource to all tradeshow professionals, whether organizing shows at the association level, managing events and tradeshows at the company level, or supporting shows in a sales or marketing capacity.
We invite you to browse our new site and let us know if this is helpful and reflects the vision we are trying to create.
Tradeshow Playbook
Our work in the field provides us with the opportunity to accumulate a wealth of knowledge and customer-driven examples of how to run or support tradeshows efficiently and effectively, and get the most out of the significant investment you make in them. We've collected our best practices and lessons learned into a comprehensive Tradeshow Playbook, which we continue to update as we go. Check it out.
Welcome Feedback
Contact us any time to let us know what you think, make suggestions, or request more info!