Lead Qualification & Management
Give Yourself Something to Go On
A lead in the hand is worth two in the aisle. But without notes and a way to connect your conversation with the contact information, it's challenging to prioritize. And if you're managing several shows or several sales people, collecting consistent intel is even harder. Real-time lead qualification gives you a better starting point, and is a critical part of lead management.
Asking the Right Questions to Qualify Leads
To drive value from your tradeshow efforts, you have to know what you're looking for. Selecting and attending the right show is a great start, but not every attendee is a lead. Knowing how to quickly qualify leads in real time for actionable follow up is essential.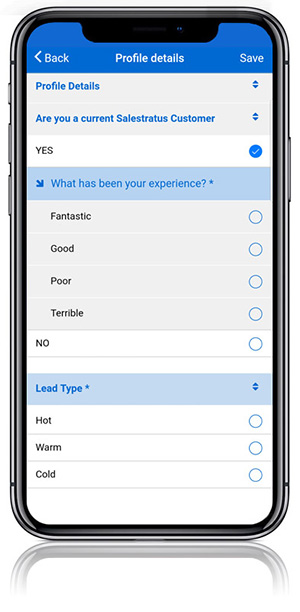 The more connected your sales and marketing efforts are, the better you likely know your qualifiers. What kinds of companies are most likely to buy from you? Are you expanding to a new industry or market? How big should the company be? What are the titles of the buyers to you need to meet? Who are the influencers? Where are they in the buying process? What's the budget… or do even have budget? What other key data points do you need to know where to start?
Documenting Qualified Leads for Follow Up
Once you've identified the information you need for lead qualification, boil it down so it's simple. We suggest:
Develop a set of three to five key questions.
Create answer categories, so you can select and move on quickly.
Include Skip Logic to avoid irrelevant questions.
Get contact consent to receive email – the app is GDPR Compliant. Learn how to add "Consent" within the app.
Be sure to add room for notes to capture personal/custom comments that might be useful.
The Sale$tratus® SPARK App makes it easy for you to capture the information while you're talking. It even has "skip logic" so you only ask and they only answer relevant questions. But you can also talk first and answer later, as long as you keep it simple. Similarly, digital lead conversion forms provide opportunities to collect key qualifiers in the registration or download process. Whether in person or online, make sure you align marketing, sales and the booth staff around the goals and process.
Beyond Qualified Leads: What's Next?
Once you've collected the qualifying information, there are a number of ways you can use the data. Prioritized follow up is first and foremost. If your marketing efforts are sophisticated, they might have an email instantly, before they even leave your booth. But what else? The lower-priority leads are still valuable. Because the app integrates with your CRM system, you will be able to easily add the cooler prospects to a nurture or drip email campaign.  The qualifying information will also help with future analysis and targeting.
Even more fascinating, Sale$tratus® SPARK allows you to track attendees. When you put that information together with the qualifiers, you can gain powerful insights. Learn more.