CRM Integration & Other 3rd Party Connectivity via API
Efficiency and Value Across Events
Trade shows are a primary sales and marketing investment for many companies. When trade shows are core to a company's go-to-market strategy, their efforts are sophisticated and complex. Often, they span across multiple events. In this case, working across various systems for lead capture and retrieval can make overall lead management tricky. When team productivity slows down, so does ROI. Our API integrations for 3rd party connectivity changes that game and provides consistency across events.
CRM: The Ultimate Mission-Critical 3rd Party
Customer Relationship Management (CRM) software is widely accepted as a must-have best practice for sales management. Still, many organizations struggle with adoption, population and maintenance of their CRM systems like Salesforce and HubSpot. That's why CRM integration is essential for any enabling lead management technology to add real value to your tradeshow initiatives.s.
When is a Lead Really a Lead?
You can collect all the contact information you want. You might even start following up on the hottest cards in your pocket or every email you collect through your digital assets. But for many companies, it's not a real lead until it's in the CRM database. Why not? Because it's virtually invisible. It's not in the pipeline, nor does it show up on reports. There may even be more than one person following up. Who would know?
CRM Integration: Document Leads Without Data Entry
When you collect leads at a trade show, where do they usually go? Into pockets of the sales team usually. If the company is disciplined and the sales team is trained, the leads might make it into CRM. Often, it is up to a trusted assistant or the marketing team to get the cards from the team and enter them manually into a spreadsheet or system. That process can take weeks. And we see stacks of cards on corners of desks around the world.
With the Sale$tratus® SPARK App, the sales team captures and qualifies leads via badge or business card scanning using their smartphones. Users may choose to sync data in real-time if connected, or on-demand if offline. Leads go directly into the Sale$tratus® SPARK Platform when synced, ready for a final check using advanced data management tools. Then users send the leads directly into the database at the click of a button via the 3rd Party Connectivity. Virtual events rely largely on conversion forms to collect leads.
Other Lead Delivery Options
If there is no CRM system in place, we can just as easily deliver your leads via a simple spreadsheet. Our custom reporting feature allows for quick download or emailing of lead reports. As a result, the sales team can follow up or share with executives in real-time
CRM & Beyond: How does 3rd Party Connectivity Work?
An API, or Application Programming Interface, is how one system "talks" to another. There are many event-related technologies that might be candidates for API integration. Attendee registration and lead retrieval systems hold valuable data, which is critical to the lead management process. Whether through full API integration or post-show merger, Sale$tratus® SPARK can close the lead management loop.
The "People Power" Behind Successful Event 3rd Party Connectivity
API connection may sound simple. But it's not always easy. While API integration is almost always possible, it's not automatic. It takes time, effort and technical knowledge to get answers and access to the right data.
Adding technology can be overwhelming because there are so many details involved in running a major trade show. And when lead retrieval and other systems aren't on speaking terms, exhibitors often forgo the benefits of the technology. That's where our dedicated trade show support team comes in. We have deep experience in the integration process. We know what to ask for, what to do, and how to make it seamless.
There is another factor that can give pause to organizers and exhibitors: data privacy and security. Because of that and legal regulations, GDPR compliance is a critical nuance of technology integration. Sale$tratus® SPARK is fully GDPR compliant, so we can assure technology users that our API integration is secure.
Why 3rd Party Connectivity via API is Worth the Effort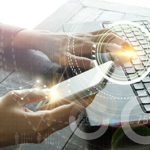 When it comes to trade show lead management, a cold start is a hard start. That's why we are here in the first place. Because you should never have to start cold. If you have a preferred system to collect data, then API integration with Sale$tratus® SPARK can make that investment more valuable.
The right connection makes lead retrieval at one show easier for your sales team to work. It makes lead capture fast, accurate, actionable, and trackable. Now multiply that by the number of shows you work. Think about the time it takes to adapt to various systems, and the missed opportunities when systems are not compatible. Sale$tratus® SPARK pulls it all together and helps maximize the ROI of your tradeshow initiatives.
The best way to feel the simplicity and potential of our solutions is to let us show you.